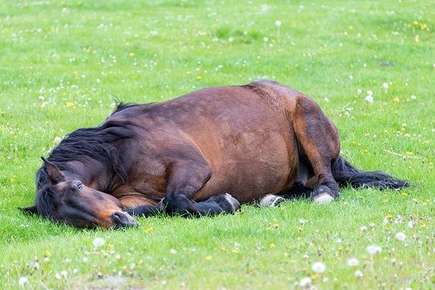 Colic, in its more severe manifestations, takes more horses' lives than any other common equine ailment. If your horse has frequent bouts with this painful form of digestive upset -- or if you would like to protect him from having such problems in the future -- it's best to understand what causes colic and what you can do about it.
"Colic" is actually something of a catch-all term for various digestive disorders, ranging from temporary discomfort to dangerous and even fatal blockages or torsions of the digestive tract. The trouble frequently stems from the fact that domesticated horses rarely consume their ideal diet in the intended fashion. Ideally, a horse should munch on a steady supply on grass and hay throughout the day. A horse that receives a diet too in heavy starchy carbohydrates such as corn or oats may develop colic, because these starches result in high levels of lactic acid in the gut. Other possible causes of the disorder include intestinal parasites, moldy feed, insufficient water, and a lack of fiber in the diet.
Precautions for Prevention
To help ensure better digestion for your horse, make sure his feed contains less than 5 percent grains or fillers; the higher the percentage of grass and hay, the better. Check the feed for signs of mold, sand or other contaminants before feeding it to the animal. Provide plenty of drinking water at all times to help prevent an intestinal impaction. Have your horse checked for parasites and de-wormed if necessary. You may even want to give him regular doses of psyllium pellets. Psyllium helps remove waste products from the intestine, including any sand or dirt your horse may have inadvertently consumed.
Maintaining a consistent feeding pattern can also help prevent colic. Stick to standard feeding times, quantities and products; if you must make changes, do so gradually over 7 to 10 days. Smaller, more frequent meals place less strain on the stomach than administering several pounds of feed at odd intervals. Regular exercise will also help your horse stay colic free. A simple ramble through a field is sufficient to aid peristalsis, the muscular action that pushes food through the body, but clean the field of manure before taking him out, since manure can host dangerous parasites.
If your horse does experience the occasional bout of mild colic despite your best efforts at prevention, you can often resolve his discomfort by walking him for about 30 minutes or speaking to your equine veterinarian.

Source:
Meszoly, Joanne. "Preventing Colic in Horses." Equus Magazine.